Our full-service custom metal finishing shop is housed in the same facility as the rest of our custom metal fabrication operation. In it, we offer everything from surface preparation to final finishing. We know how quickly carbon steel tends to rust if it's stripped down to white metal and aim to counteract that tendency with immediate painting.
Surface Preparation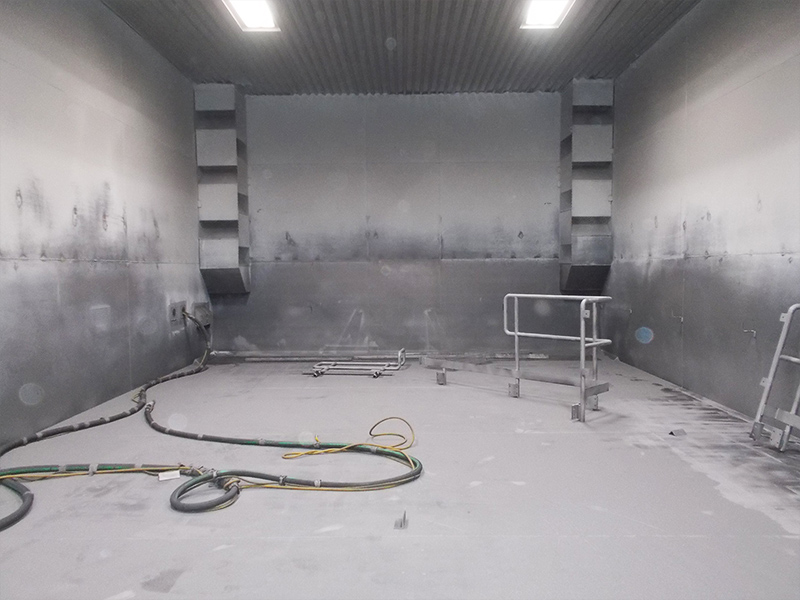 Our steel grit blast room.
We can prepare metal surfaces for surface preparation grades SP1 – SP10. To do so, we use our steel grit blast room, which produces superior finishes in a fraction of the time it takes other processes. When requested by a customer, we are happy to provide finished metal using wire brush or metal bead blasting techniques.
Painting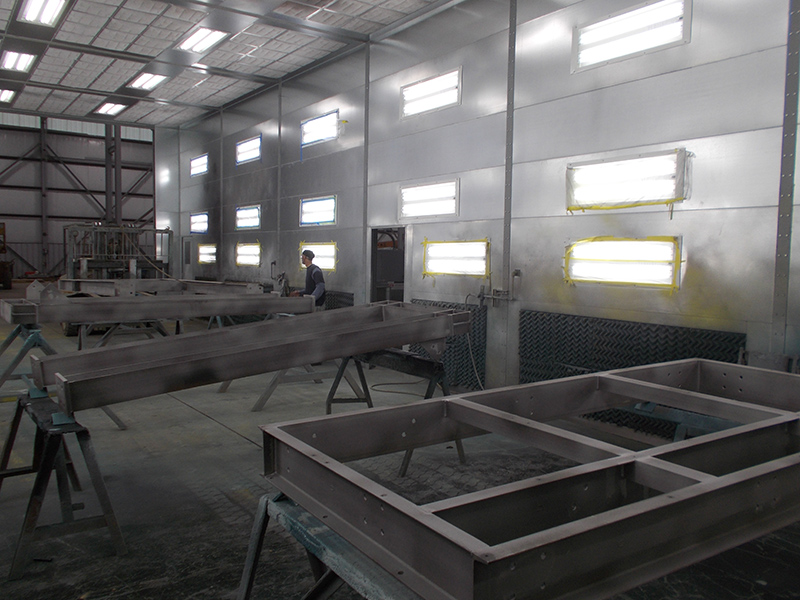 Our 1,600-square-foot paint booth.
After a surface has been prepared, we apply primer and paint using our state-of-the-art controlled paint booth. We put the large metal products we fabricate — such as carbon steel tanks and heavy ductwork — onto custom roller carts and wheel them into the 1,600-square-foot booth. Once the wide doors are closed, they are hit by manually-operated sprayers and then heated to expedite dry times (if required) and ensure proper hardening.
With each layer of paint or primer, we can gauge the thickness of the coat and document it if a job requires especially strict tolerances. In those cases, we have our certified in-house staff do all work-in-progress inspections and then invite a third-party inspector (if required) for final inspection before shipment.
We also apply direct to metal (DTM) paint. Essentially a combination of primer with finish paint, it seals metal from the elements all in one coat.
Hot-Dip Galvanizing
Typically, we do hot-dip galvanizing after a structure or sub-assembly requiring it has been put together. On the other hand, we can also order galvanized material and fabricate with it — an approach we often take when making outdoor industrial ladders and stairs.
Metal Powder Coating
For metal fabrication work that requires more decorative finishing, we offer powder coating, which delivers a softer finish. More of an aesthetic process, powder coating is a good way to finish decorative hand railing or signs, for example.
If you're looking for a full-service shop that can fabricate and finish a custom metal fabrication project, you've found it.