At some point, you've probably wondered where the heavy metal ductwork that wraps around industrial facilities is fabricated. Whether it's meant for boiler air handling or HVAC applications, it certainly doesn't come off the shelf.
Every plant has its own heavy ductwork fabrication requirements, which means that industrial ductwork inevitably involves custom metal fabrication. What follows is a walkthrough of how these important features of industrial facilities are made.
Shop Drawings for Heavy Ductwork
Heavy ductwork begins with an engineering drawing produced by a process engineer. In order to fabricate the part envisioned in the drawing, the engineer's plan then has to be broken down into constituent parts that can be physically manufactured.
To do so, the engineering specifications are translated into a series of shop drawings. These are verified with the engineer in charge of the project. Once sign off is complete, the approved shop drawings are given over to the fabrication team.
Today, this process is usually accomplished in the computer using standard files such as MTC Shape Cutting, Pro Nest, and AutoCad. Once upon a time, this was done with a series hand-drawn plans (and, truth be told, still is from time to time).
Heavy Steel Plate Processing & Fitting
The shop drawings specify the dimensions for the various pieces of heavy plate that will make up the ductwork. Once everything is measured out, plate shears are used to cut the larger pieces of thick steel. High-definition plasma or laser machines with CNC controls are used to cut smaller pieces or ones that feature complex shapes or require particularly tight tolerances.
Once the pieces of heavy steel plate have been cut, they are subjected to bending or rolling, depending on the type of ductwork being fabricated. Press brakes are used to bend plate for rectangular ductwork while rollers are generally used to give plate a rounded contour for circular ducts (although a press brake can also be used to "roll" a steel plate with incremental braking).
Once the pieces made from steel plate have been sized, they are lined up with one another to verify that they fit together properly and meet all of the specifications that can be assessed at that point in the process.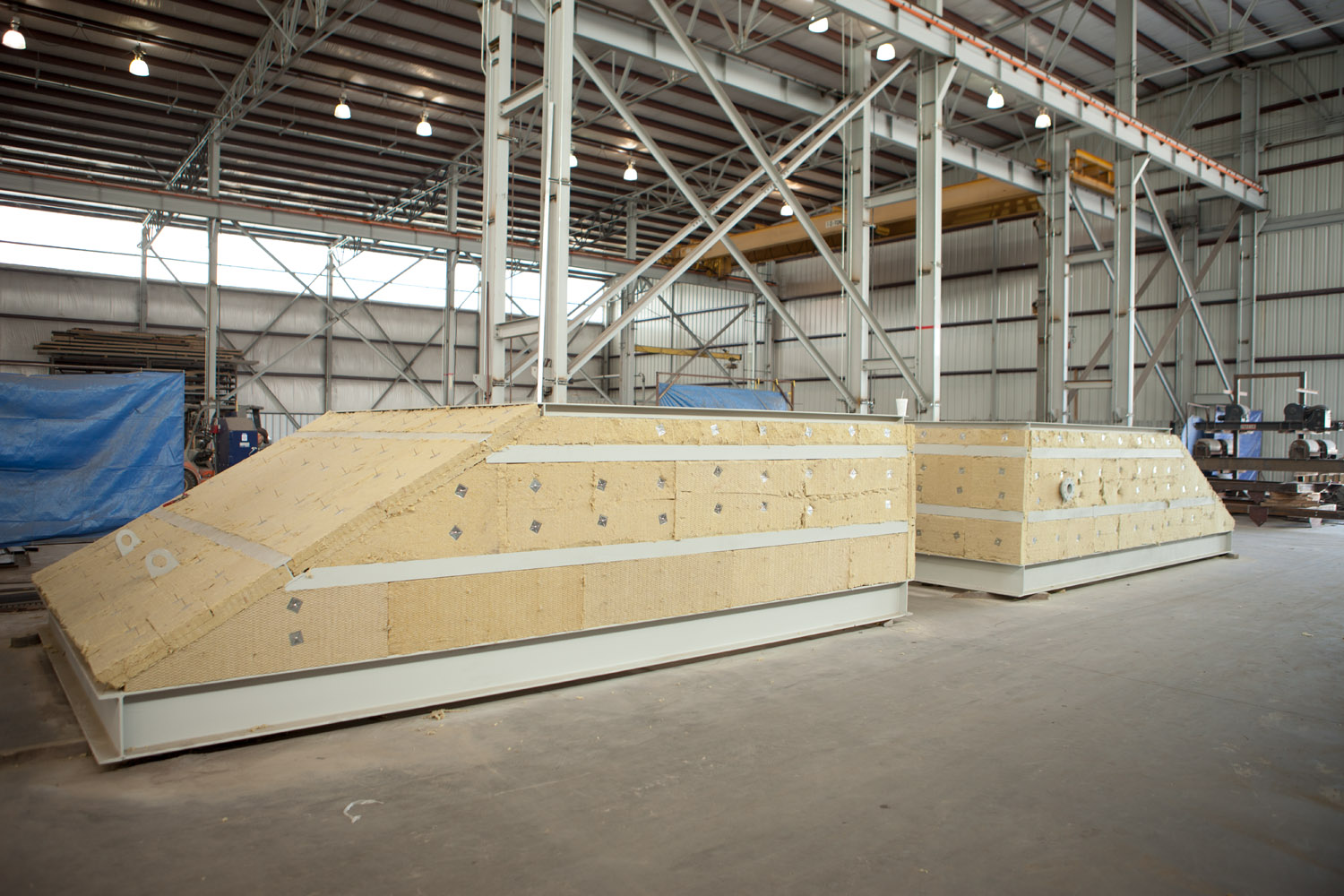 Pieces of heavy ductwork covered in insulation
Welding & Inspecting Industrial Ducts
If all of the basic pieces of the heavy ductwork fit properly, parts are prepared for welding. After careful preparation, quality welds that conform to ASME, AWS, or Canadian welding standards are made to join the pieces of metal to one another.
These welds are inspected and documented by certified in-house staff. At key junctures in the process, outside testers are called in to independently verify that the work meets the stipulated standards and the appropriate documentation is supplied to the contracting firm.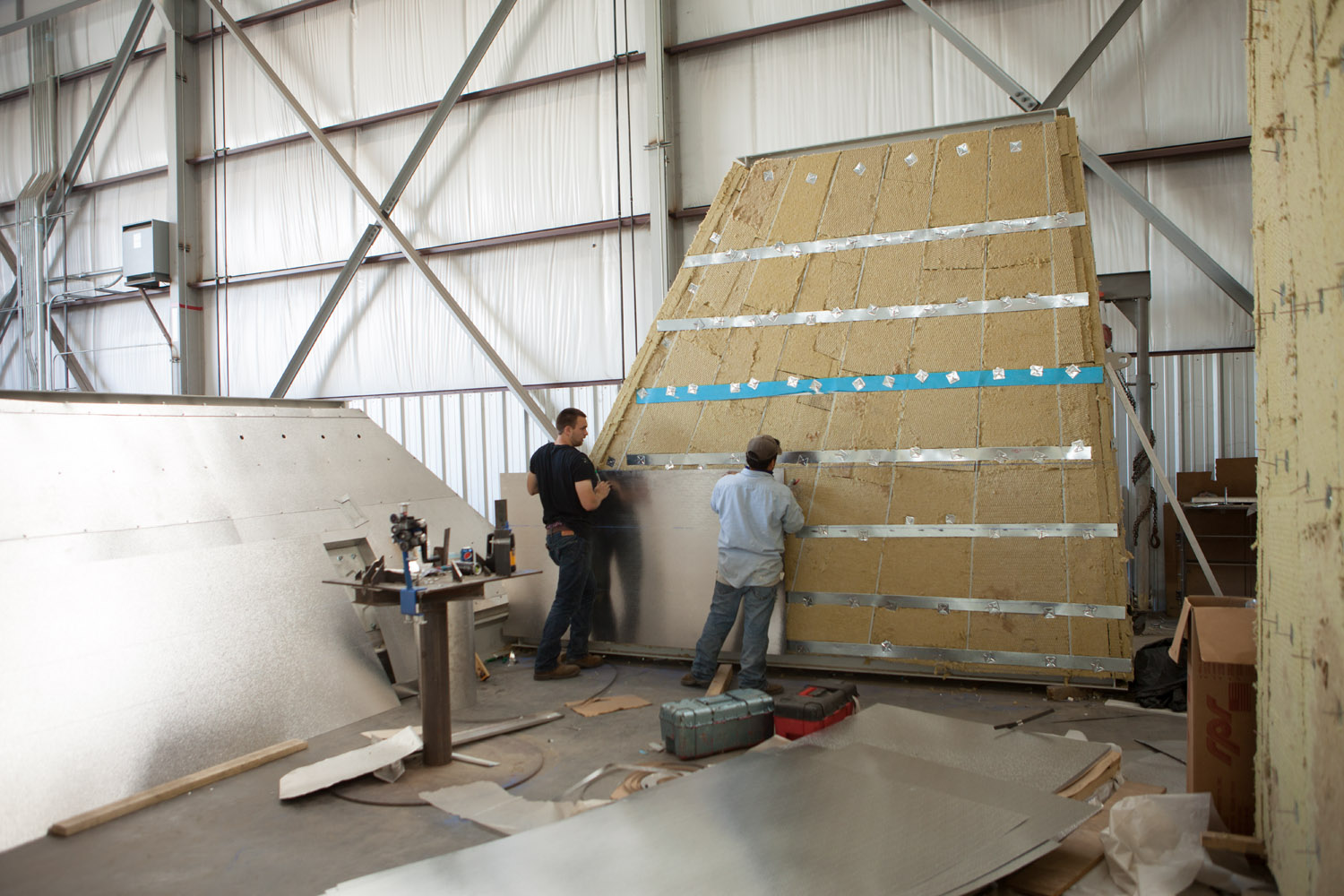 Once insulation has been applied to heavy ducts, it is covered with an outer layer of metal plate.
Applying Insulation or Lining to Heavy Ducts
Many heavy industrial ducts require insulation or lining to protect them from heat or abrasion. After the structural integrity of the metal frames has been verified, these materials are applied, either by in-house staff at the custom metal fabricators or by contractors designated by the contacting company.
For heavy ducts that require insulation, an outer layer of metal is added to cover the insulation once it has been installed. After this process is completed, a supplementary inspection is done to verify specifications.
Trial Assembly of Heavy Ductwork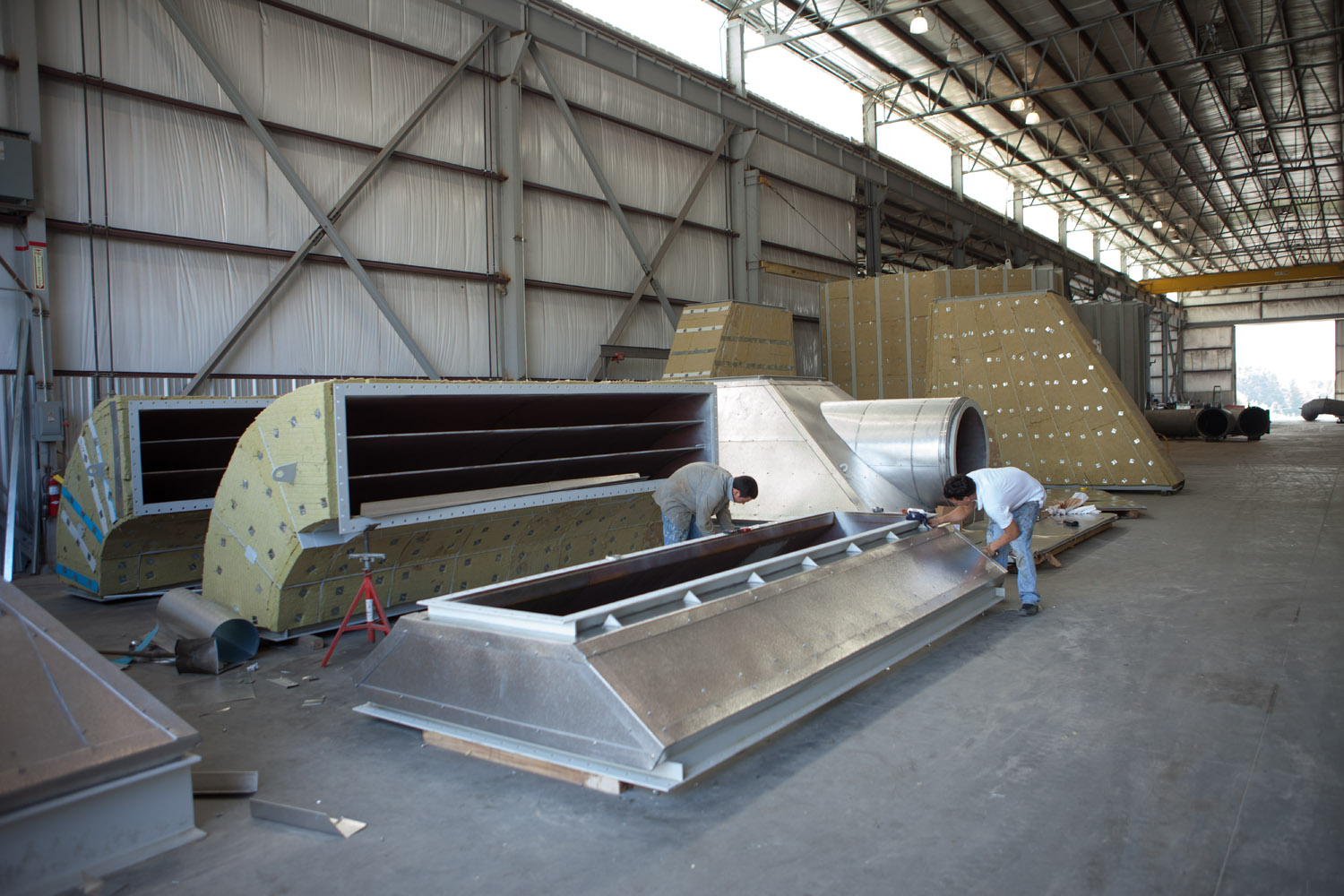 A near-finished piece of heavy ductwork with a stainless-steel outer layer in place.
Because industrial ductwork is so large, it is usually fabricated in pieces. Once all the parts are complete, they must be assembled in a trial assembly to verify that they all fit together properly and can be installed as expected. This is done before they are finished and shipped.
At the custom metal fabricator's shop, all heavy duct parts are put together into a final assembly. This process is documented thoroughly with paperwork and photographs that are sent to and approved by the customer. Once approved, parts are marked to guide installation are then dismantled into the sub-assemblies that will be finished and shipped.
Surface Preparation and Painting for Industrial Ducts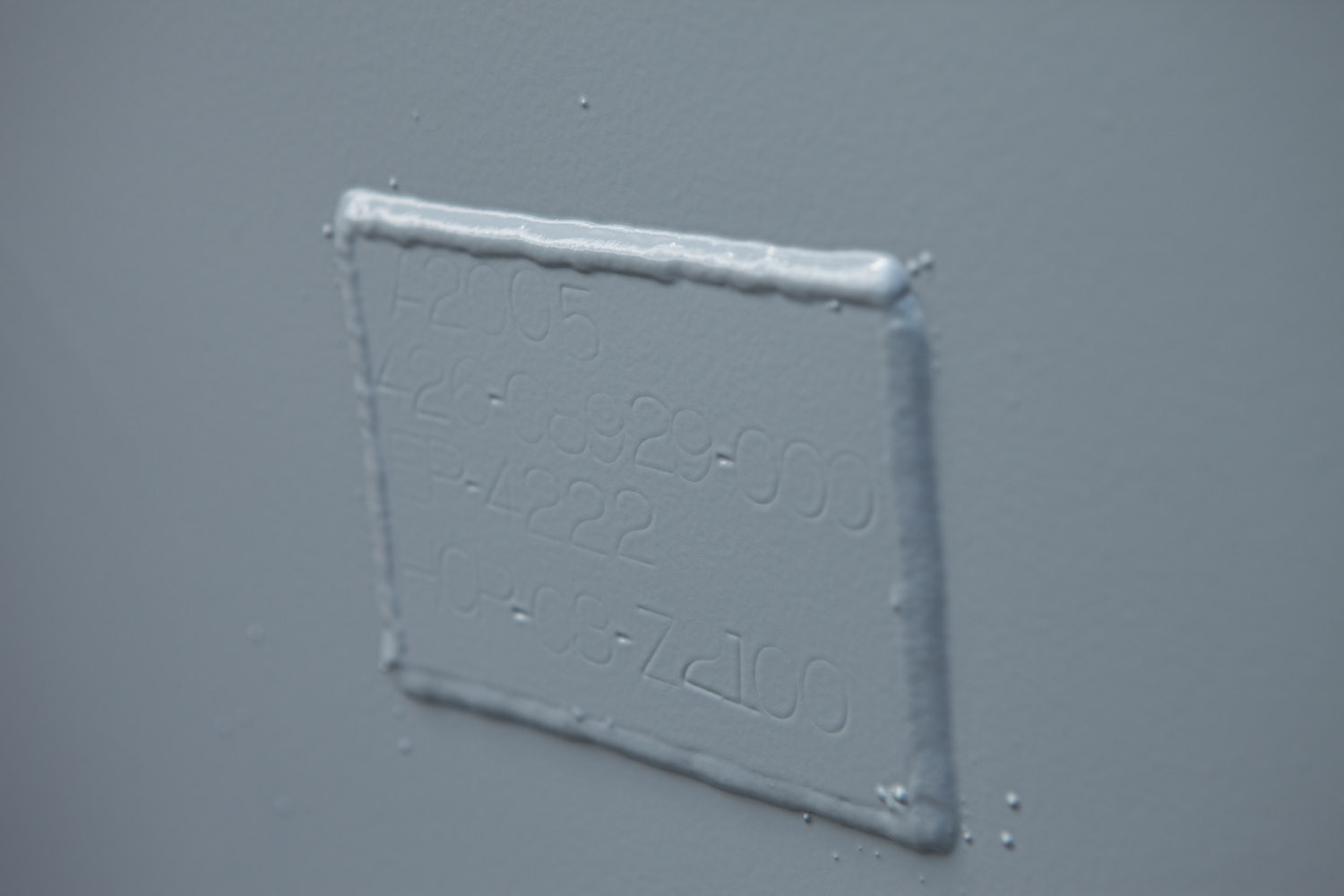 An inspection stamp on a finished heavy industrial duct.
If a heavy duct isn't made of stainless steel, it will require finishing. Before painting, the metal surfaces are prepared to the specified surface preparation standards anywhere in the SP1 – SP10 range. Typically this is done through sandblasting or bead blasting.
Once prepared, surfaces are coated with primer and then high-temperature paint. If an industrial duct project requires particularly strict tolerances, measurements can be taken with each coat of primer or paint to ensure that the proper measurements continue to be met. In-house staff usually handles these final inspections and then calls in a third-party inspector to verify everything before shipment.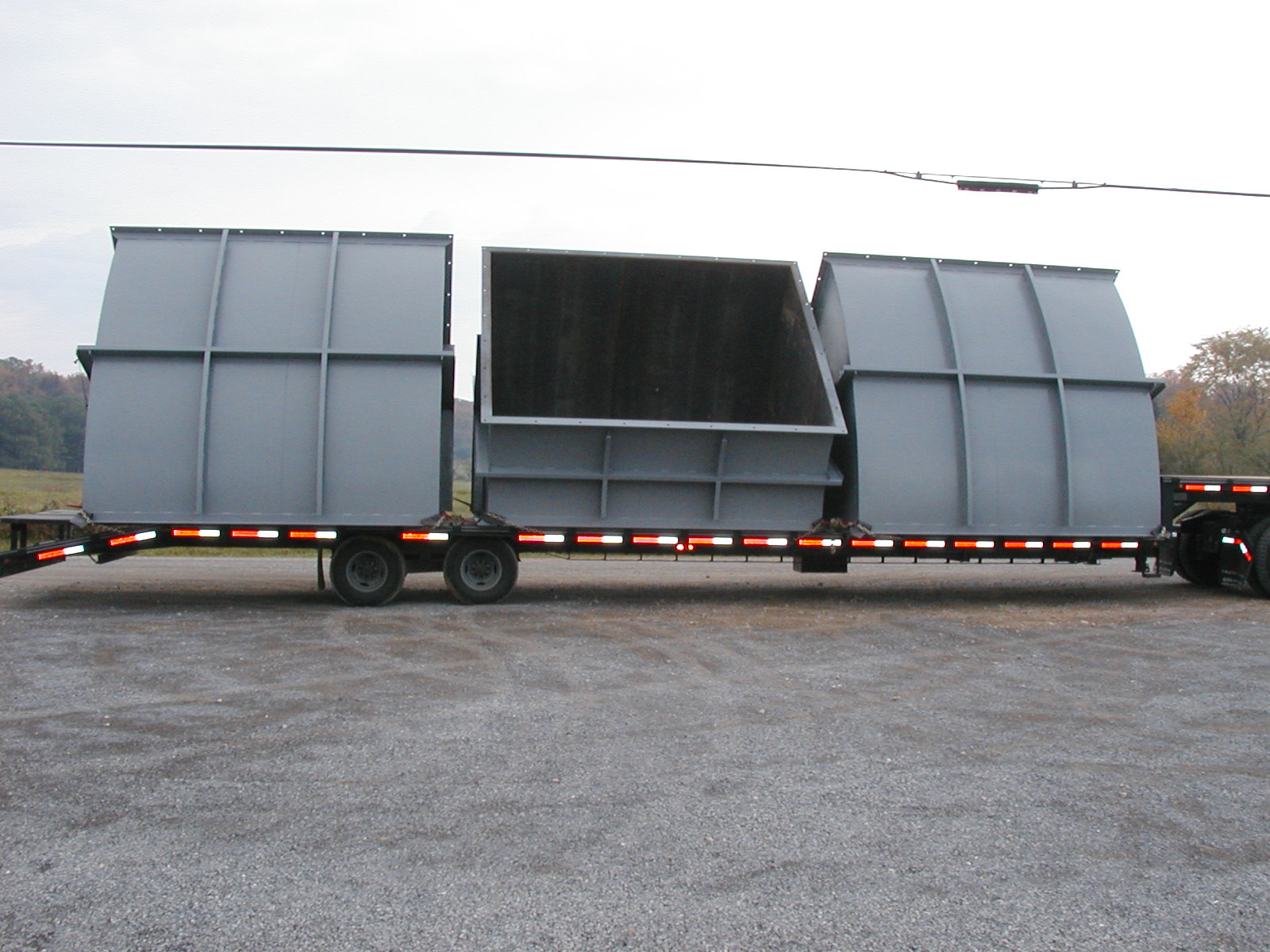 Heavy industrial ductwork loaded onto a flat-bed trailer and ready for shipment.
Shipping Heavy Industrial Ductwork
Industrial ducts are shipped in subassemblies that are as big as possible in order to mitigate the burden of installation on site. Being able to do this requires partnering with a freight carrier that can accommodate unusually large and oddly shaped cargo.
Expert Heavy Ductwork Fabrication
Hopefully this account of how heavy industrial ductwork is custom fabricated has shed some light on the process for you, as well as helped answer any questions about where those massive ducts on industrial facilities come from. We can't say this is how everyone does it, but it's what we know and do at Southern Metal Fabricators.
If you have any questions about this process, please give us a call at 1-800-989-1300. And if you have a slightly different way you'd like to have heavy ductwork custom fabricated, we'll be happy to hear it and say, "Yes, we can do that!"