Structural steel is everywhere, and much of the civilized world as we know it would simply collapse without it, and yet it's hardly visible. From agriculture to automotive, from power plants to petroleum plants, from telecommunications towers to water towers, every aspect of modern life is supported by hundreds of thousands of frameworks made by metal fabricators, like us. Most people never think about it or notice it, even when entirely surrounded by it.
Commercial Structural Steel vs. Industrial Structural Steel
Structural steel is also one of the most misunderstood categories of construction and metal fabrication, primarily because there is a vast range of types, but almost no well-defined categories. Most people think of massive I-beams when they hear the terms "structural steel" or "structural metal," like the ones so often seen in images of towering skyscrapers being erected, or of multilane bridges spanning rivers or bodies of water. These types of structural components are commonly called "commercial" structural steel.
But really, if the entire field of structural steel were depicted as a pyramid, such monstrously large and heavy elements would be at the narrow top of the pyramid. The broad bottom of the pyramid would contain an almost uncountable number of "little brother" counterparts that had been assembled in smaller quantities and usually less complex configurations. But these custom and short-run structural components are no less important to life, commerce, and industry. In loose terms, these applications are referred to as "industrial" structural steel.
Structural Support Steel
At Southern Metal Fabricators, we have the experience and the equipment to work at almost any level of structural metal fabrication, but our focus and specialty is on the "intermediate" levels. We design and fabricate support structures for specific applications that usually include other components we've manufactured, such as stairs, bins, hoppers, chutes, silos, and stacks.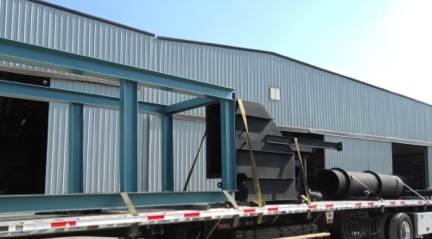 A stack and accompanying steel support structure, welded to the fullest extent possible and ready to ship.
An example is the work we did for Express Oil in North Carolina. When you drive over "the pit" to have your car serviced, a framework of structural steel supports your vehicle.
Southern Machinery needed holding and transfer bins for the Vulcan Materials facility in Chattanooga, Tennessee as well. The bins had to be able to handle the pounding of heavy building materials such as crushed stone and gravel. We were able to fabricate custom bins with custom bracing and support structures so the bins could take the abuse.
When German giant ThyssenKrupp needed an extensive network of industrial units for its steel manufacturing plant near Mobile, Alabama, contractor International Steel chose us to build custom bins, chutes, and storage silos, all requiring extensive custom structural support that we made, test-assembled, and shipped for installation.
Structural Metal Capabilities
At Southern Metal Fabricators, we've built our facility to take on almost any metal fabrication challenge, including the capacity to create structural metal components exactly to specifications. Our 50,000-square-foot high-bay production building has a 2-ton, 3-ton, and 10-ton overhead crane. Outside, there's five acres of lay-down yard, and a 30-ton mobile gantry.
Our beam line of configurable chain-driven roller beds feeds two saws that can go through anything we throw at them, then carries the cut pieces to punching and welding stations if needed, and on to offloading for finishing and test assemblies.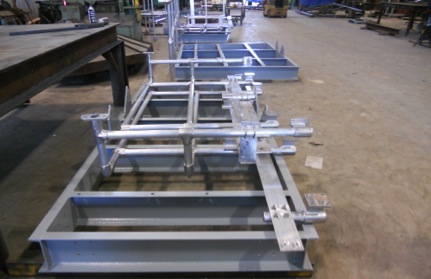 Galvanized structural steel components provide the necessary support for heavy-duty steel platforms. Southern Metal Fabricators works with a wide variety of metal
Our finishing booths are ideally equipped for prepping and painting structural metal of nearly any shape and size.
Although we only do limited amounts of structural carbon steel, we do handle many varieties of structural metal for specialty applications, including stainless steel and aluminum.
Learn more about our structural steel fabrication capabilities or call us at 1.888.421.9661 to ask how we can support your next project with precision custom structural metal. We love nothing better than to be able to say: "Yes, we can do that."