If you produce or make use of bulk materials, you need storage. Bins are generally used to house solid materials ranging from feed and grain to ore, rock, and sand to the plastic pellets used in rubber factories. Liquids such as oil and gas or even maple syrup, on the other hand, are stored in tanks.
Depending on the situation, a bulk storage container will have a set of requirements dictated by the material, process, access needs, and industry safety standards involved. Here are seven common accessories for custom bulk storage bins and tanks that can be engineered to meet almost any set of requirements.
Platforms
---
Larger bins and tanks require rest platforms to facilitate access and to comply with industry-specific safety regulations. Platforms comprise cross members to support the platform, the grating or plate material that forms the platform itself, and guard rails.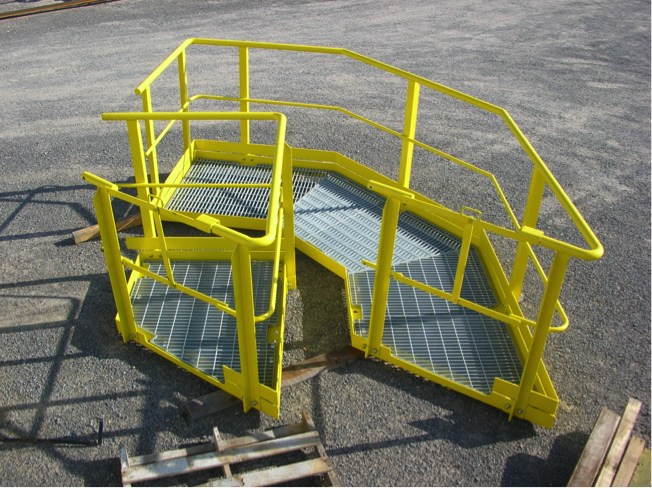 A platform assembly, including a handrail and toe plate, finished and welded to the fullest extent possible before shipping.
Handrails
---
Most handrails are made out of 1 ¼" diameter Schedule 40 pipe. Handrails can also be made out of square tubes and can be painted or galvanized, bolted or welded, curved or straight, stainless steel or aluminum. When incorporated into a platform, a handrail assembly can also include a toe plate that runs the length of the platform.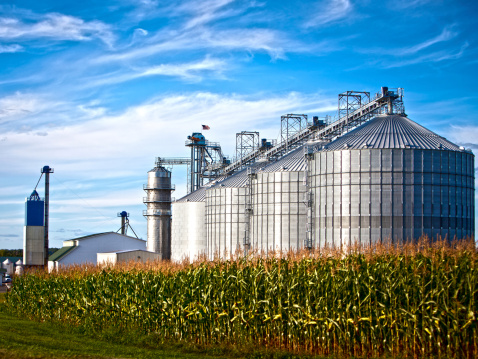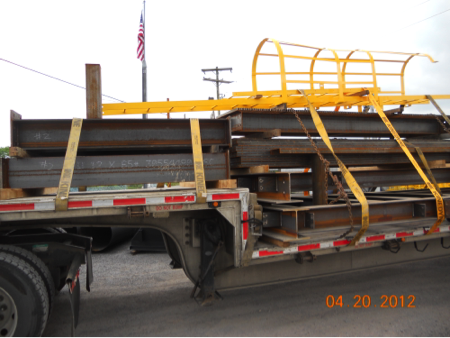 A painted carbon steel caged ladder ready to be shipped along with some custom structural support steel assemblies.
Ladders
---
Ladders come in all shapes and sizes and are often accompanied by their own range of accessories. When a ladder reaches 24 feet or above, OSHA requires that all ladders have a cage. Per OSHA, ladders 24 feet or longer also have to be interrupted by rest platforms at least every 30 feet, although some companies have even stricter requirements.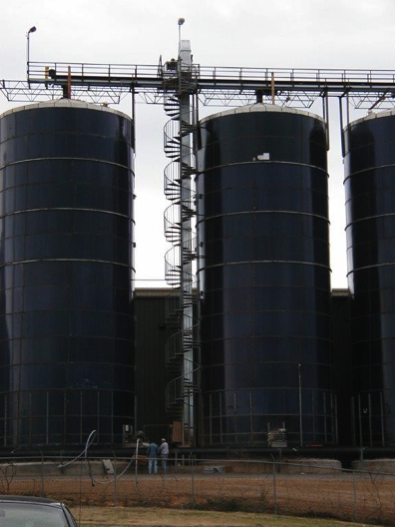 Spiral stairs provide access to a series of bulk oil tanks.
Spiral Stairs
---
can be engineered to flank custom storage tanks or circle around them. Calculating the right curvature of each stair is complicated as it involves lining up inboard and outboard "stringers" so that they parallel one another while curving both up and around at different rates. Spiral stairs' handrails all have to follow the same curves as the stringers.
The treads that go in between the stringers can be made in a variety of ways. One way is to use a mesh made out of carbon steel plate. Another is to incorporate a bent plate that can then have concrete poured into it or off-the-shelf stair tread welded onto it after assembly.
Legs
---
Sometimes, a bulk storage bin or tank will need to be elevated so that transport equipment, such as a train or a truck, can get under it. The most straightforward way to accomplish this is to use custom structural steel legs to lift the heavy bin or tank off the ground. Depending on the load and the height, structural cross members and/or X-members will need to be added.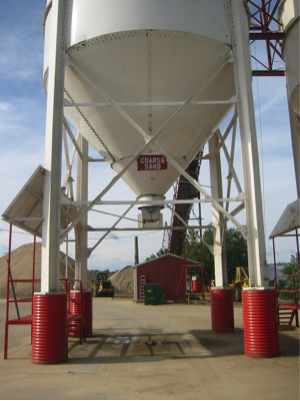 Custom structural steel legs support a sand tank equipped with a discharge chute.
Discharge Chutes
---
If a bin or tank needs to unload to a conveyor belt or a vehicle underneath it, it should come equipped with a discharge chute. A discharge chute is essentially a hopper that is integrated with the bin or tank. The shape of the chute can be either square or round. Tanks will also require some sort of supplemental flange to regulate the flow rate of the liquid stored in them.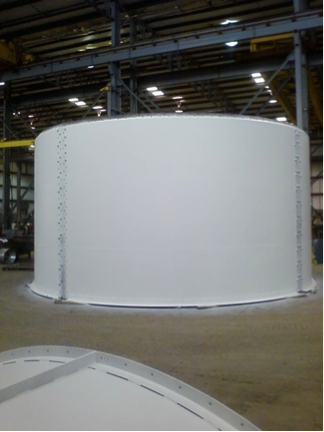 A skirted bottom that will obstruct the view of the interior chute and support the rest of the bin or tank above.
Skirted Bottoms
---
A skirted bottom is basically a sidewall that surrounds a tank's discharge chute. The cone shape of the chute ties directly into the sidewall so one can't see the chute's cone from the outside. The skirt also serves to support the rest of the tank. Usually, skirted bottoms have a door in them to provide access to the discharge chute and any conveyor system that lies below.
Truth be told, most custom bulk storage bins and tanks come with at least one of these accessories. Which is why it's a good idea to work with a metal fabricator who can deliver the whole package. Experts in custom bulk storage bin and tank fabrication, we at Southern Metal Fabricators do it all and are happy to help. Just contact us or call 1.888.421.9661 and give us a chance to say, "Yes, we can do that!"